Welcome to The Unofficial Spoiler Website, dedicated to Gotham's coolest teen vigilante -- Stephanie Brown, the Spoiler! And, as far as I know, this it the ONLY page on the web devoted solely to Steph. Since her debut in Detective Comics #647 and her reappearance in Robin's solo book, Steph has become one of DC's most popular teen heroes, and I'll do everything I can here to chronicle her past, present, and future in the DCU.

I will do my best to update The Unofficial Spoiler Website as often as possible, but I'll warn you -- most of my spare time is taken up by updating my main site: DCU: Next Generation. If you would like to be notified by email when new stories, interviews, or artwork are added, send me your email address and I'll add you to the update list.

Why not take a minute to fill a short survey to let me know what you think about the site?
Spoiler and all other characters mentioned on this site are the property of
DC Comics and are used here without permission for the purpose of entertaining
comics fans anddrawing more attention to the teen heroes of DC Comics.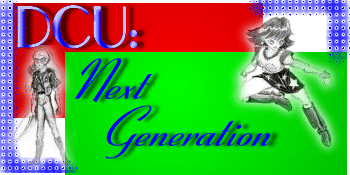 And don't forget to visit my parent site, DCU: Next Generation
for the latest and greatest on those slammin' DC teen heroes!
[ This site was created and is maintained by Sean Taylor ]